News & Notes - Summer 2019
We are CLOSED Sunday, June 30 & Monday, July 1.
Our scheduled NCCP classes WILL be running over the long weekend. Need a little help finding us? Check out the 'Where We Are" section of our contact page !
June 30 is the last day to take advantage of our early bird membership pricing!
Purchase your 2019 - 2020 membership now and save! The price will be going up after June 30. Book your summer camp now to take advantage of this awesome promo!
A huge 'THANK YOU' to everyone who supported Team Phoenix in the 2019 Relay for Life!
Team Phoenix has entered a Team for the Relay for Life! We are looking for some more teammates to join our team, and we are looking for donations! Check out our link below!
Long weekend hours!
• Saturday, May 18 - NO CLASSES
• Sunday, May 19 - NO DROP-IN
• Monday, May 20 - NO CLASSES & NO DROP-IN
Interested in joining our competitive artistic gymnastics program? Sign up now to reserve your spot in our 2019-2020 season tryouts! Information is below and sign up is available through our office in person or at 780-438-0586.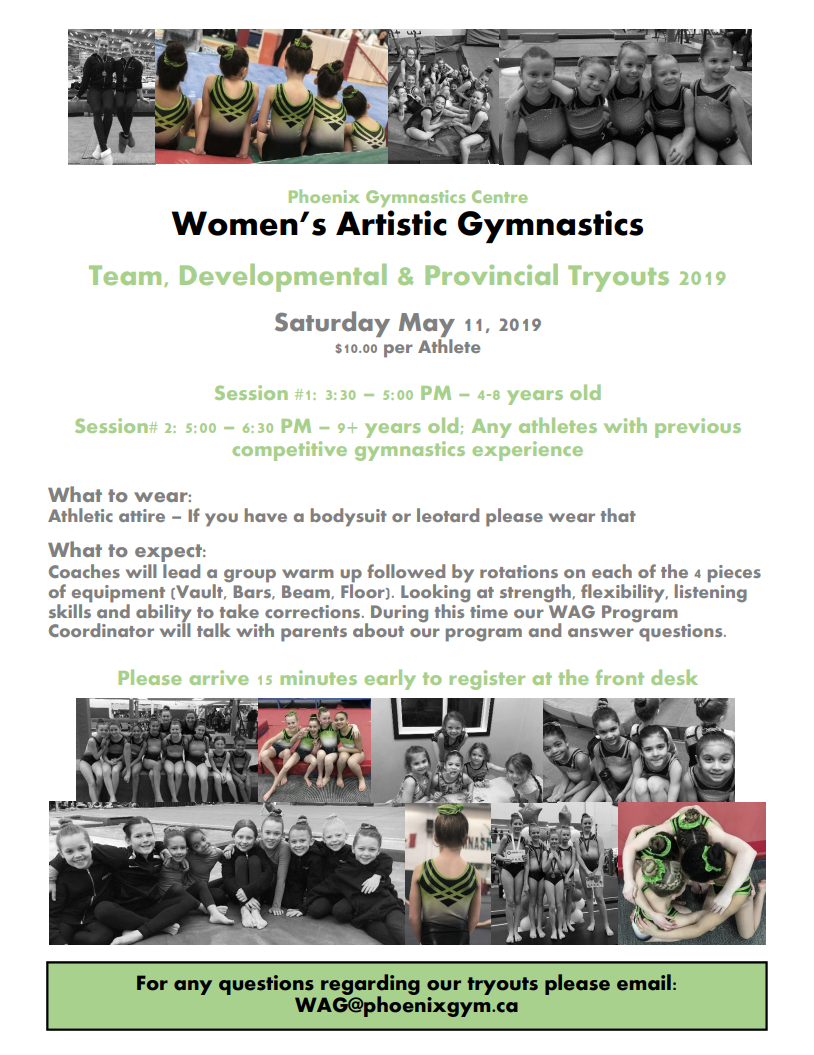 Spring Session Spots Are Still Available!
Haven't registered for spring session? We are still taking registration. Check out our schedule below to see our available spots and to register. Call us with any questions at 780-438-0586.
Easter Weekend Drop-In Hours!
Friday, April 19: CLOSED

Sunday, April 21: CLOSED

Monday, April 22: Daytime drop-in from 12:00pm - 1:00pm
Please remember as well that ALL RECREATIONAL CLASSES are CANCELLED on April 19, April 20, & April 22. Enjoy the long weekend!
Want to try out our micro session but don't want to commit to the full 4 weeks?
Drop-in classes are now available for some of our micro session classes! Check out our schedule below for availability.
Current members can register online by clicking the drop-in option and selecting the day(s) they would like to attend.
New participants please create an account on Amilia and then call us at 780-438-0586 to help with your registration as we can waive the membership fee for your first three drop-in classes!
Drop-In Times For The Family Day Long Weekend!
Sunday, February 17: 7:00pm – 8:30pm

Monday, February 18: CLOSED
Are you missing something?
Please take a moment to look through our lost & found. All items not claimed by December 15 will be donated to Goodwill.
Winter Micro classes start November 27! There is still time to register for this awesome 4 weeks of classes.
New circus programs are available during the month of November! Check out the details below of contact Lyne at lyne@lynegosselin.ca for more information!
Cookie dough orders come in November 15. If you submitted a cookie dough order do not forget to come pick them up!
Phoenix Gymnastics is unable to store cookie dough so please ensure you are in on November 15 to pick it up.
Phoenix Gymnastics will be CLOSED for recreational programs and drop-ins on NOVEMBER 10, NOVEMBER 11 & NOVEMBER 12 in observance of Remembrance Day.
Come join us for Kids Night Out this weekend!
Interesting in registering? With our long weekend closure we can only take registration by phone/in person until our office closes on Friday night at 8:00pm. For those who still want to join us registration will also be available at the door before Kids Night Out starts on Saturday.
Phoenix Gymnastics will be CLOSED for the Thanksgiving long weekend.
There will be no recreational classes or drop-in October 6 - October 8.
Drop in Sunday Sept 2nd & Monday Sept 3rd are cancelled
We have one last week of summer camp! Refer a friend for our August 27 - 31 camp and both you and your friend get 10% off camp fees!
Drop in will be cancelled on Sunday, July 1 & Monday, July 2. Enjoy the long weekend!
Are you looking for fun program to take your love of gymnastics to the next level?
If so, look no further than the PHOENIX PERFORMANCE TEAM!
The Performance Team prioritizes inclusion with the idea of gymnastics for all at the core of the group. In a supportive team environment, athletes of all ages work to create a routine that is performed at events throughout Canada.
Interested in learning more?
An information meeting will be held 1:00 PM June 23, 2018 at Phoenix Gymnastics Centre.
Please RSVP at info@phoenixgym.ca or 780-438-0586.
Our next Kids Night Out is on May 26! Sign up now to reserve your spot!
Competitive Artistic Tryouts!
Are you interested for trying out for our competitive men's (MAG) or women's (WAG) artistic programs for the 2018-2019 year? Sign up at the link below to reserve your spot!
Date: May 21, 2018
Time: 6:00pm
Cost: $10.00 per athlete

All recreational programs are cancelled for the Victoria Day weekend. This means there will be no classes or drop in May 19-21!

Enjoy the long weekend with your family!
Spring session is underway! We still have spots in some of our classes so register now to reserve your spot!
Easter weekend drop-in hours:
Friday, March 30 from 12:00pm - 1:00pm
Monday, April 2 from 12:00pm - 1:00pm.
Please note: Evening drop-ins are cancelled on March 30 & April 1 for the long weekend!
Spring Break Camps!
Spring Break Camps run March 26 - 29! With full day, half day, and even 1.5 hour options we can accommodate anyone's schedule. You can even choose the number of days you attend!
Spring Micro Session !
Spring Micro session is coming! Register to join us starting on Tuesday (March 20) and join us for a condensed 4 weeks of class!
We are currently in our third week of winter classes! We can still take registration for the coming days if you are still looking for a spot!
Holiday office hours:
December 27, 28, & 29 8:30am - 4:30pm
January 3, 4, & 5 8:30am - 4:30pm
Holiday closures:
CLOSED December 23 - December 26 AND December 30- January 2
Regular office hours will resume starting on January 6, 2018.
DROP & SHOP is only $15.00 per child (3 years and up) is available until Christmas!
Mondays 1pm - 4pm
Wednesdays 9am - 12pm
Fridays 9am - 12pm
Our last Kids Night Out date before the new year is coming up on December 9! Register now to reserve your spot!
Interested in something new? Try a circus program!
Come and join the Holding On Circus for their session on Mondays from November 6 - November 27 from 4:00pm - 5:00pm! More info is available by contacting lyne@lynegosselin.ca.
Come join us for movie night! November 4! More information and sign-up is available through our office!
Phoenix is closed October 7-9 for the Thanksgiving long weekend! All classes and drop-ins are cancelled on October 7, 8, & 9.
Enjoy the holiday with your friends and loved ones!
Fall classes are underway!
It is our last week to accept fall registrations! Register now if you are still looking for a spot.
Drop in times have changed!
Our Friday evening drop in time is changing starting September 15. Join us for drop in from 8:00pm - 9:30pm.
All drop in times are available on our "DROP IN" page.
Phoenix Summer Sessions are a fabulous way to keep up your skills in a condensed session.Classes run for 4 weeks on Tuesday & Thursday evenings in July and/or August.
Looking for a daily camp? We offer 1.5 hour, 1/2 day & full day camps depending on your child's age! With new camps starting each week there is an option for everyone's schedule. Check out our fantastic Summer Camp information in the link below.
Just in time for summer come take part in our newest fundraiser!
We are looking to upgrade some of the competitive equipment in the gym & you get to have some AMAZING ALBERTA Spolumbo's sausage!
Our order date has changed! Please ensure all orders are in to our office by Monday, May 29 @ 6:00pm!
Our tryout date is now available for our men and women's artistic programs! Come and join our developmental or competitive programs for the 2017 - 2018 year!
DROP IN IS CANCELLED ON SUNDAY, MAY 21 & MONDAY, MAY 22 FOR THE VICTORIA DAY LONG WEEKEND!
Phoenix Gymnastics will be CLOSED Saturday May 20 to Monday May 22 for the Victoria Day longweekend!
Spring classes are underway but summer ones are just around the corner! Summer session & camp information will be available soon.

Have a great Long Weekend April 14 - 17, 2017.
Enjoy the holiday with Family & Friends - All classes have been cancelled for the Friday, Saturday & Monday.
Kids night out dates have been announced through the end of June!
Come check them out and plan to join us!
Contact our office at 780-438-0586 or stop by the office to register.